Phishing
Phishing (pronounced fishing), is it a bad thing? The answer is a resounding yes, and just about everyone is at risk of losing vital information to phishing including your credit card information, banking information, online account information, and more. In this brief article you will get a basic explanation of what phishing is, why it is dangerous, and a few tips to help protect yourself.
If you do download malicious software accidentally or opened a phishing email and got infected check out Computer Repairs Brisbane for more help.
Brisbane
,
Logan
,
Ipswich
,
Springfield Lakes
,
Forest Lakes
,
North Lakes
,
Sunshine Coast
,
Yarrabilba
or on the
Gold Coast
.
Contact Us Now: 0403-755-519.
What is Phishing?
Phishing is an attempt at tricking someone into giving away their private information through electronic communication by pretending to be from a trustworthy organization. Phishing is a homophone of fishing. This is because both of them use bait to attract and catch prey. There are many ways phishing can be accomplished, and the use of it has been growing incredibly fast since it first started. With 12,845 unique phishing reports in January 2005 up to 229,265 unique reports in March of 2016 (according to the
Anti-Phishing Working Group
).
Clearly this is not just some small time scam, but something that will most likely affect everyone if it hasn't already.
What does a phishing message look like? Often there are spelling or grammar mistakes, which a big company should never have in their important emails. Threats of loss of service are another red flag to look for. Often times the links in the emails aren't what they appear, and lead to various malicious sites. There are many ways to make an email look professional when it isn't actually. Some of those ways include an email address that appears to be from the company, a proper signature, and even pictures and font styles of the company they are imitating. A useful tip is that if you hover your mouse over a link without clicking on it you will see what the actual link you'd be following is. Most importantly, if you are suspicious of an email you can call the company to verify that they are the ones who actually sent it. If you're near Logan, Brisbane or Ipswich and are having an issue, feel free to check out
Laptop Repairs Logan
or
Computer Repairs Springfield Lakes
for more help.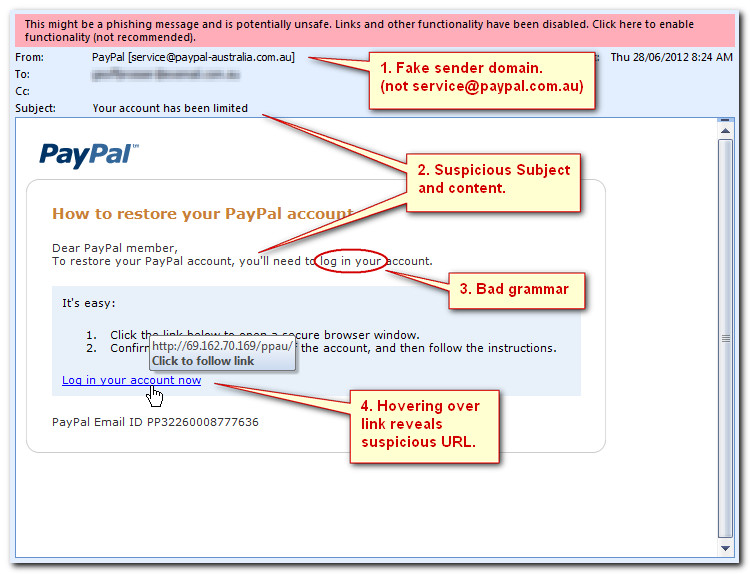 Phishing is broken up into four classifications, phishing, spear phishing, clone phishing, and whaling.
Phishing
Phishing involves some kind of online communication that is supposedly coming from a trusted source. This could be an email, direct message, and more recently, even a text message. The message usually will ask for some kind of information either sent directly as a response, or by following a link.
Clone Phishing
Clone Phishing is an attack where a legitimate email, that contained an attachment or link, is copied to create an almost identical email. The big difference is that the attachment or link will be replaced with a malicious version.
If you need fast and reliable service you can contact CompuRepair at any time. CompuRepair can help with
computer repairs in Brisbane
,
computer repairs in Logan
,
computer repairs in Ipswich
, we also can help with
laptop repairs in Springfield Lakes
,
laptop repairs in Forest Lakes
,
virus removal North Lakes
,
computer repairs on the Sunshine Coast
,
computer repairs in Yarrabilba
or any IT related issues on the
Gold Coast
.
Ring Us Now: 0403-755-519.
Spear Phishing
Spear Phishing is a more effective version of phishing, because it is an attack directed at one person instead of multiple people. Attackers will usually gather personal information about the target to better personalize their message and increase the odds of success.
Whaling
Whaling is one of the most lucrative types of phishing scams. These are phishing scams aimed towards high level executives and upper management of large companies. The messages are generally business oriented. They usually use either a subpoena or a false company-wide concern to entrap them into giving up their information or downloading malicious software. The message itself is often not the end of a phishing scam. The link you follow will often look just like the official website, or at least quite close. There are also some scams that use a more covert method. They'll use a pop-up window on a site's legitimate domain. This can include a pop-up asking for you to login, or asking for you to authorize something. Putting your information into one of these pop-ups may even download malicious software to your computer and steal your information from the inside, even if it doesn't specifically ask for private information.
Conclusion
Phishing does pose a dangerous risk to your online information, but you can protect yourself against it. Be careful who you give your information to, and watch out for threats from big companies. There are also many ways to report phishing, including reporting it to the APWG, Scamwatch, CERT, Europol, or even the RCMP. There are a lot of organizations trying to stop cybercrime like phishing, and they need victims to let them know when these attacks happen. Don't let yourself get fooled. Follow the link to
Virus Removal Brisbane
if
you're concerned for your computer's health.
Welcome to CompuRepair, your trusted computer repair service provider. We understand how frustrating it can be when your computer or laptop encounters issues, disrupts your work, or hampers your productivity. That's why we are here to provide reliable and efficient solutions to all your computer-related problems. We offer same day service, are responding fast to any call outs and offer reliable service.
At CompuRepair, we have a team of highly skilled and experienced technicians who are passionate about computers and technology. Whether it's a hardware malfunction, software glitch, virus infection, or network connectivity problem, we have the expertise to diagnose and resolve the issue promptly.
Our range of computer repair services includes:
Hardware Repairs: We can fix or replace faulty components such as motherboards, hard drives, RAM, power supplies, and more. We use high-quality replacement parts to ensure optimal performance and reliability.
Software Troubleshooting: Our technicians are well-versed in identifying and resolving software-related issues. Whether you're experiencing operating system errors, software crashes, compatibility issues, or other software-related issues, CompuRepair's team of experts can help identify and fix the problem.
To troubleshoot software issues, CompuRepair may employ various techniques such as:

Remote Assistance: With your permission, CompuRepair can remotely access your computer to diagnose and fix software problems. They can navigate through your system, identify the root cause of the issue, and apply appropriate solutions.

Software Analysis: CompuRepair's technicians have extensive knowledge and experience with different software applications and operating systems. They can analyze error logs, system configurations, and software settings to pinpoint the source of the problem.

System Updates and Patches: Outdated software can lead to compatibility issues and vulnerabilities. CompuRepair can ensure that your software is up to date by installing the latest updates and patches provided by software vendors.

Software Reinstallation or Repair: If a particular software application is causing issues, CompuRepair can perform a reinstallation or repair process. This involves uninstalling the problematic software, removing any associated files, and then reinstalling it to ensure a fresh installation without any conflicts.

Malware and Virus Removal: Sometimes, software issues can be caused by malware or viruses. CompuRepair can perform thorough malware scans and remove any malicious software that may be affecting your system's performance.

Configuration and Optimization: CompuRepair can review your software configurations and optimize settings to ensure smooth operation and prevent conflicts between different software applications.

It's important to note that while CompuRepair can help troubleshoot software issues, they may have limitations based on the specific problem or complexity of the situation. In some cases, it may be necessary to consult with the software vendor or seek specialized support for certain applications.
Virus and Malware Removal: If your computer is infected with viruses, malware, or spyware, we have the tools and expertise to eliminate these threats and restore your system's security.
Data Recovery: Accidentally deleted important files? Don't worry. We offer data recovery services to retrieve lost data from hard drives, SSDs, USB drives, and other storage devices.
Network Setup and Troubleshooting: We can assist you in setting up and configuring your home or office network. Whether it's Wi-Fi connectivity issues, network speed problems, or router configuration, our technicians can provide reliable solutions.
Upgrades and Optimization: If your computer is running slow or needs an upgrade, we can help. We offer hardware and software upgrades to enhance your system's performance, including RAM upgrades, SSD installations, and operating system optimization.
Custom-Built Computers: Looking for a personalized computer built to your specifications? We can design and assemble a custom-built computer tailored to your needs, whether it's for gaming, graphic design, or professional applications.
At CompuRepair, we prioritize customer satisfaction and aim to provide excellent service at competitive prices. Our technicians are friendly, professional, and committed to delivering timely and reliable repairs.
Contact us today to schedule an appointment or inquire about our services. Trust CompuRepair for all your computer repair needs, and let us bring your devices back to life!