Computer Repairs Brisbane
,
Gold Coast
,
Ipswich
,
Springfield Lakes
,
Yarrabilba
,
Logan Village
,
Logan
and
Sunshine Coast
.
Based in the Brisbane area in Queensland, CompuRepair specialises in providing reliable onsite computer repair services in plain English. Our friendly and professional staff are here to answer any questions you may have about our company, our computer services and discuss possible solutions for your IT issues.
more...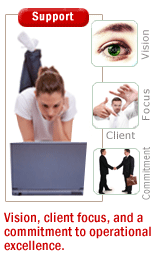 What sets CompuRepair apart from other computer repair services?
Guaranteed 4 hours or less response time
When you call us with a computer problem we guarantee that a technician will be at your home / office within 4 hours - calls must be received before 10AM on that day.
100% unconditional satisfaction guarantee
You deserve complete satisfaction with our computer repair services. We will do whatever it takes to make you happy. No hassles, no problems.
No technical jargon
We will not talk down to you or make you feel stupid because you don't understand "geek speak". Your questions will be answered in PLAIN ENGLISH!
Competitive pricing
CompuRepair not only offers the best service but we also make sure our prices on products and services are competitive. We do not cut corners to increase our bottom line but we do however try to offer the best value for your money.
Unmatched expertise
Everyone that works for CompuRepair possesses different skills to help with your computer needs and offer the best solutions.
Service you can count on
CompuRepair strives to offer the best service experience to our customers from initial contact to after sales follow up. If you are not happy with the level of service we will work with you to make sure you are satisfied.
General FAQ
Do you support products that weren't purchased from CompuRepair?
Yes. We support products that were purchased from other manufactures or businesses. However we can not honor other companies warranties.
How do I contact you?
Just call our office 0403 755 519 and speak with our friendly staff who will run you through our PC/MAC/laptop repair services and applicable costs. Alternatively, you can leave a
Repair Request
on our web site.
What areas do you provide services to?
We provide on-site services in Brisbane, Logan, Ipswich, The Gold Coast and part of the Sunshine Coast. Give us a ring to find out if we service your area.
Networks FAQ
Can you troubleshoot an existing small network?
Yes. We can troubleshoot most home and small business networks even if we did not originally install it.
Can I share my printer with more than one computer?
Yes. This can be accomplished many different ways. You can share the printer from within windows or purchase a network compatible printer.
Is a wireless network safe?
Yes, but the network and the computers that are on the network have to be configured correctly for it to be safe. On the wireless router, various Wireless Encryption Protocols can be used to encrypt the signal that is being sent and received. On the network computers, passwords should be setup.
Call a technician for help
CompuRepair receives calls every day from people in need of computer repair services. Our technicians are experienced in any IT issues for home or business. We custom build computers to your needs and specifications, we can recover your data if disaster strikes and we can give advice on anything related to IT.
Here at CompuRepair, each and every one of our computer technicians have been carefully selected; we make sure that they have the appropriate technical expertise and experience. So, if you need same day, onsite IT support in
Springfield Lakes
,
Ipswich
,
Brisbane
,
Gold Coast
,
Logan
,
Forest Lake
,
Yarrabilba
,
North Lakes
and
Sunshine Coast
,
contact Us now: 0403­-755-519.
Computer Service Brisbane Links
Please don't forget to check our other links for computer, laptop and PC repairs Brisbane. We offer services for any IT related issues including virus removal, network setup and maintenance, laptop repairs just to name a few.